Staff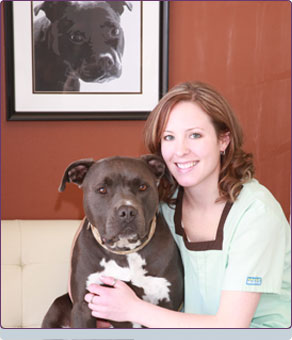 Head Veterinary Technician Harmonie Newhart has been with Pets First Animal Hospital since we first opened in October of 2008, but began her career in pet care in 2003. In addition to her years of work experience, she has an Associate's degree of Applied Science in Veterinary Technology from Bel-Rea Institute of Animal Technology.
"Unlike any other practice I've worked at we truly do put all pets first," she says. "It is a tender touch practice that uses baby food as a restraining device instead of brute force. Pets love coming here and we love seeing them! They aren't just a number to us, they are family."
Harmonie's pets include three Pitbulls named Addison Marie, Bubba Duke, and Darla Brooke, as well as a thoroughbred quarter horse cross named Kianu. Her interests include baking, volleyball, softball, hiking, snowboarding, traveling, riding her horse, and spending time with her family and friends.
Veterinary Assistant Tina Garcia has been with Pets First Animal Hospital since March of 2011. She began her career in animal care in 2006 and has earned a Veterinary Assistant Certificate from the Pima Medical Institute.
Asked what makes her uniquely capable at her job, Tina says, "My ninja-like reflexes, a sense of humor and a great love for all animals big and small. I also like working in this environment because we are all one big happy animal-loving family. There is a true compassion for all animals here and that is something that anyone would be lucky to experience."
Her animal family includes a Pomeranian named Samson, Chihuahua named Lily, two Siamese cats named Milo and Tyrone, and two domestic shorthair cats named Rosie and Cleo. Tina's interests include hiking, playing the piano, traveling, skydiving, laughing, and singing in the shower.
Ashley Fowler is a Receptionist who has been with Pets First Animal Hospital since March of 2011, but began working in the pet care field in 2007. Additionally, she has a Bachelor of Science in Pathobiology.
"I enjoy working here because it is so accommodating and we will find a way to have your pet seen in an emergency," she says. "I also like the fact that every staff member will go above and beyond to make sure your pet is comfortable."
At home, Ashley has two cats named Bug and Smudge and her baby German shepherd named Carter. Her interests include cooking, traveling with her husband, and playing with her cats and her puppy.